Section Policies
Editorials
Editors
| | | |
| --- | --- | --- |
| Open Submissions | Indexed | Peer Reviewed |
Original Research Articles
Editors
| | | |
| --- | --- | --- |
| Open Submissions | Indexed | Peer Reviewed |
Review Articles
Editors
| | | |
| --- | --- | --- |
| Open Submissions | Indexed | Peer Reviewed |
Brief Communications
Editors
| | | |
| --- | --- | --- |
| Open Submissions | Indexed | Peer Reviewed |
Special Reports
| | | |
| --- | --- | --- |
| Open Submissions | Indexed | Peer Reviewed |
Study Protocols
Editors
| | | |
| --- | --- | --- |
| Open Submissions | Indexed | Peer Reviewed |
Letters to the Editor
Editors
| | | |
| --- | --- | --- |
| Open Submissions | Indexed | Peer Reviewed |
Books Reviews
Editors
| | | |
| --- | --- | --- |
| Open Submissions | Indexed | Peer Reviewed |
Software and Database Articles
Editors
| | | |
| --- | --- | --- |
| Open Submissions | Indexed | Peer Reviewed |
Theses Abstracts
| | | |
| --- | --- | --- |
| Open Submissions | Indexed | Peer Reviewed |
Peer Review Process
General information 
Most of the contributions to JPHDC are peer-reviewed. It is our goal that the submission, review and publishing processes take advantage of the efficiency and faster turnaround of the e-journal system, while maintaining the high standards of excellence of traditional, formal, scientific journals. 
As with all formal scientific journals, peer-review is necessary and required in order to optimise overall quality and scientific robustness of the final published draft of accepted papers. JPHDC is committed to high scientific standards, treating publication as a collaborative process between Author, Reviewers and Editors. Here "Author" refers to the corresponding author who is responsible for handling submission and revision of a manuscript, and who may or may not be the lead author. Authors are encouraged to refer to the Reviewer Guidelines and Editors' Guidelines for a detailed description of the roles and expectations JPHDC has of its Reviewers and Editors, respectively. 
Online manuscript review
We ask peer-reviewers to submit their reports via our secure online system by following the link provided in the editor's email.
Criteria for publication
In general, to be acceptable, a paper should represent an advance in understanding likely to influence thinking in the field.
The peer-review process
All submitted manuscripts are read by the editorial staff. To save time for authors and peer-reviewers, only those papers that seem most likely to meet our editorial criteria are sent for formal review. Those papers judged by the editors to be of insufficient general interest or otherwise inappropriate are rejected promptly without external review (although these decisions may be based on informal advice from specialists in the field). 
Manuscripts judged to be of potential interest to our readership are sent for formal review, typically to two or three reviewers, but sometimes more if special advice is needed (for example on statistics or a particular technique). The editors then make a decision based on the reviewers' advice, from among several possibilities:  
Accept, with or without editorial revisions
Invite the authors to revise their manuscript to address specific concerns before a final decision is reached
Reject, but indicate to the authors that further work might justify a resubmission     
Reject outright, typically on grounds of insufficient conceptual advance or major technical and/or interpretational problems 
Reviewers are welcome to recommend a particular course of action, but they should bear in mind that the other reviewers of the same paper may have different technical expertise and/or views, and the editors may have to make a decision based on conflicting advice. The most useful reports, therefore, provide the editors with the information on which a decision should be based. Setting out the arguments for and against publication is often more helpful to the editors than a direct recommendation one way or the other. 
We try to evaluate the strength of the arguments raised by each reviewer and by the authors, and we may also consider other information not available to either party. Our primary responsibilities are to our readers and to the scientific community at large, and in deciding how best to serve them, we must weigh the claims of each paper against the many others also under consideration. 
We may return to reviewers for further advice, particularly in cases where they disagree with each other, or where the authors believe they have been misunderstood on points of fact. We, therefore, ask that reviewers should be willing to provide follow-up advice as requested. We are very aware, however, that reviewers are usually reluctant to be drawn into prolonged disputes, so we try to keep consultation to the minimum we judge necessary to provide a fair hearing for the authors. 
When reviewers agree to assess a paper, we consider this a commitment to review subsequent revisions. However, editors will not send a resubmitted paper back to the reviewers if it seems that the authors have not made a serious attempt to address the criticisms. We take reviewers' criticisms seriously; in particular, we are very reluctant to disregard technical criticisms. In cases where one reviewer alone opposes publication, we may consult the other reviewers as to whether s/he is applying an unduly critical standard. We occasionally bring in additional reviewers to resolve disputes, but we prefer to avoid doing so unless there is a specific issue, for example a specialist technical point, on which we feel a need for further advice.
Selecting peer-reviewers
Reviewer selection is critical to the publication process, and we base our choice on many factors, including expertise, reputation, specific recommendations and our own previous experience of a reviewer's characteristics. 
We check with potential reviewers before sending them manuscripts to review. Reviewers should bear in mind that these messages contain confidential information, which should be treated as such.
Writing the peer-review
JPHDC is appreciative of its peer-reviewers. It is only by collaboration with our reviewers that editors can ensure that the manuscripts we publish are among the most important in their disciplines of scientific research. We appreciate the time that reviewers devote to assessing the manuscripts we send them. 
The primary purpose of the review is to provide the editors with the information needed to reach a decision. The review should also instruct the authors on how they can strengthen their paper to the point where it may be acceptable. As far as possible, a negative review should explain to the authors the weaknesses of their manuscript, so that rejected authors can understand the basis for the decision and see in broad terms what needs to be done to improve the manuscript for publication elsewhere. This is secondary to the other functions, however, and referees should not feel obliged to provide detailed, constructive advice to authors of papers that do not meet the criteria for the journal. If the reviewer believes that a manuscript would not be suitable for publication, his/her report to the author should be as brief as is consistent with enabling the author to understand the reason for the decision. 
Confidential comments to the editor are welcome, but it is helpful if the main points are stated in the comments for transmission to the authors. JPHDC will provide a reviewer template for the reviewers.
Timing
JPHDC is committed to rapid editorial decisions and publication, and we believe that an efficient editorial process is a valuable service both to our authors and to the scientific community as a whole. We therefore ask reviewers to respond promptly within the number of days agreed. If reviewers anticipate a longer delay than previously expected, we ask them to let us know so that we can keep the authors informed and, where necessary, find alternatives.
Anonymity 
We do not release reviewers' identities to authors or to other reviewers, except when reviewers specifically ask to be identified. Unless they feel strongly, however, we prefer that reviewers should remain anonymous throughout the review process and beyond. Before revealing their identities, reviewers should consider the possibility that they may be asked to comment on the criticisms of other reviewers and on further revisions of the manuscript; identified reviewers may find it more difficult to be objective in such circumstances. 
We ask reviewers not to identify themselves to authors without the editor's knowledge. If they wish to reveal their identities while the manuscript is under consideration, this should be done via the editor, or if this is not practicable, we ask authors to inform the editor as soon as possible after the reviewer has revealed his or her identity to the author. 
Our policy is to neither confirm nor deny any speculation about reviewers' identities, and we encourage reviewers to adopt a similar policy.
Editing referees' reports
As a matter of policy, we do not suppress reviewers' reports; any comments that were intended for the authors are transmitted, regardless of what we may think of the content. On rare occasions, we may edit a report to remove offensive language or comments that reveal confidential information about other matters. We ask reviewers to avoid statements that may cause needless offence; conversely, we strongly encourage reviewers to state plainly their opinion of a paper. Authors should recognise that criticisms are not necessarily unfair simply because they are expressed in robust language. 
As a condition of agreeing to assess the manuscript, all reviewers undertake to keep submitted manuscripts and associated data confidential, and not to redistribute them without permission from the journal. If a reviewer seeks advice from colleagues while assessing a manuscript, he or she ensures that confidentiality is maintained and that the names of any such colleagues are provided to the journal with the final report. By this and by other means, JPHDC endeavours to keep the content of all submissions confidential until the publication date. Although we go to every effort to ensure reviewers honour their promise to ensure confidentiality, we are not responsible for the conduct of reviewers. 
Reviewers should be aware that it is our policy to keep their names confidential, and that we do our utmost to ensure this confidentiality. We cannot, however, guarantee to maintain this confidentiality in the face of a successful legal action to disclose identity in the event of a reviewer having written personally derogatory comments about the authors in his or her reports. For this reason as well as for reasons of standard professional courtesy, we request reviewers to refrain from personally negative comments about the authors of submitted manuscripts. Frank comments about the scientific content of the manuscripts, however, are strongly encouraged by the editors.
Referee suggestions 
Authors are welcome to suggest suitable independent reviewers when they submit their manuscripts, but these suggestions may not be followed by the journal in all instances. Authors may also request the journal to exclude a few individuals. The journal sympathetically considers such exclusion requests and usually honours them, but the editor's decision on the choice of peer-reviewers is final.
Open Access Policy
This journal provides immediate open access to its content on the principle that making research freely available to the public supports a greater global exchange of knowledge.
Archiving
This journal utilizes the LOCKSS system to create a distributed archiving system among participating libraries and permits those libraries to create permanent archives of the journal for purposes of preservation and restoration. More...
Publication Policy
Authorship
Duplicate publication
Plagiarism and fabrication
Competing financial interests
Confidentiality and pre-publicity
1. Authorship Policy 
Being an author
JPHDC does not require all authors of a research paper to sign the letter of submission (covering letter). Submission to JPHDC is taken by the journal to mean that all the listed authors have agreed all of the contents. The corresponding (submitting) author is responsible for having ensured that this agreement has been reached, and for managing all communication between the journal and all co-authors, before and after publication. Any changes to the author list after submission, such as a change in the order of the authors, or the deletion or addition of authors, needs to be approved by a letter signed by every author. (The letter should be scanned and sent by email [Chief.Editor@jphdc.org] to the Editor-in-Chief by the corresponding author).
Group Authorship
If authorship is attributed to a group (either solely or in addition to one or more individual authors), all members of the group must meet the full criteria and requirements for authorship. If that is not the case, a group must designate one or more individuals as authors or members of a writing group who meet full authorship criteria and requirements. Other group members who are not authors may be listed in an Acknowledgment section.
Order of author names
Authorder® is a free, easy-to-use tool to allocate author order. 
Determining who should be listed as an author of your article, and what order the names should be listed, can be a problem. Authorder® builds on internationally accepted protocols and is a simple tool that can be used by anyone to allocate author order.
Author contributions statements
Authors are required to include a statement of responsibility in the manuscript that specifies the contribution of every author. JPHDC also allows two co-authors to be specified as having contributed equally to the work being described. In cases of doubt, please refer to: How to handle authorship disputes: a guide for new researchers published by The Committee on Publication Ethics (COPE).
Corresponding author – pre-publication responsibilities
The corresponding (submitting) author is solely responsible for communicating with the journal and with managing communication between co-authors. Before submission, the corresponding author ensures that all authors are included in the author list, its order has been agreed by all authors, and that all authors are aware that the paper was submitted. 
At submission, the corresponding author must include written permission from the authors of the work concerned for mention of any unpublished material included in the manuscript, for example others' data, in press manuscripts, personal communications or work in preparation. The corresponding author also must clearly identify at submission any material within the manuscript that has previously been published elsewhere by other authors (for example, figures) and provide written permission from those authors and/or publishers, as appropriate, for the re-use of such material. 
After acceptance, the galley proof is sent to the corresponding author, who circulates it to all co-authors and deals with the journal on their behalf; the journal will not necessarily correct errors after publication if they result from errors that were present on a proof that was not shown to co-authors before publication. The corresponding author is responsible for the accuracy of all content in the proof, in particular that names of co-authors are present and correctly spelled, and that addresses and affiliations are current.
Corresponding author - responsibilities after publication
The journal regards the corresponding author as the point of contact for queries about the published paper. It is this author's responsibility to inform all co-authors of matters arising and to ensure such matters are dealt with promptly. The name and e-mail address of this author is published in the paper.
Correcting the record
Authors of published material have a responsibility to inform the journal promptly if they become aware of any part that requires correcting. Any published correction requires the consent of all co-authors, so time is saved if requests for corrections are accompanied by signed agreement by all authors (in the form of a scanned attachment to an email containing agreement messages from all the authors). In cases where one or some authors do not agree with the correction statement, the coordinating author must include correspondence to and from the dissenting author(s) as part of the scanned attachment or composite email.
A confidential process
JPHDC editors treat the submitted manuscript and all communication with authors and referees as confidential. Authors must also treat communication with the journal as confidential: correspondence with the journal, reviewers' reports and other confidential material must not be posted on any website or otherwise publicised without prior permission from the editors, whether or not the submission is eventually published.
Referee suggestions
Authors are welcome to suggest suitable independent reviewers when they submit their manuscripts, but these suggestions may not be followed by the journal in all instances. Authors may also request the journal to exclude a few individuals. The journal sympathetically considers such exclusion requests and usually honours them, but the editor's decision on the choice of peer-reviewers is final.
2. Duplicate publication
Material submitted to JPHDC must be original and not published or submitted for publication elsewhere. This rule applies to material submitted elsewhere while the JPHDC contribution is under consideration. 
If part of a contribution that an author wishes to submit to JPHDC has appeared or will appear elsewhere, the author must specify the details in the covering letter accompanying the submission. Consideration by JPHDC is possible if the main result, conclusion, or implications are not apparent from the other work, or if there are other factors, for example if the other work is published in a language other than English. 
JPHDC allows submissions containing material that has previously formed part of a PhD or other academic thesis which has been published according to the requirements of the institution awarding the qualification. 
JPHDC allows publication of meeting abstracts before the full contribution is submitted. Such abstracts should be included with the journal submission and referred to in the cover letter accompanying the manuscript. 
In case of any doubt, authors should seek advice from the editor handling their contribution. 
If an author of a submission is re-using a figure or figures published elsewhere, or that is copyrighted, the author must provide documentation that the previous publisher or copyright holder has given permission for the figure to be re-published.  
3. Plagiarism and fabrication
Plagiarism is when an author attempts to pass off someone else's work as his or her own. Duplicate publication, sometimes called self-plagiarism, occurs when an author reuses substantial parts of his or her own published work without providing the appropriate references. This can range from getting an identical paper published in multiple journals, to 'salami-slicing', where authors add small amounts of new data to a previous paper. 
Plagiarism can be said to have clearly occurred when large chunks of text have been cut-and-pasted. Such manuscripts would not be considered for publication in JPHDC. The journal editors judge any case of which they become aware (either by their own knowledge of and reading about the literature, or when alerted by referees) on its own merits. 
JPHDC uses iThenticate to help verify the originality of submitted manuscripts. The iThenticate software checks submissions against millions of published research papers, documents on the web, and other relevant sources. Authors can also use the iThenticate system to screen their work before submission by visiting http://research.ithenticate.com. 
If a case of plagiarism comes to light after a paper is published in JPHDC, the journal will conduct a preliminary investigation. If plagiarism is found, the journal will contact the author's institute and funding agencies. A determination of misconduct will lead the journal to run a statement linked online to the original paper, to note the plagiarism and to provide a reference to the plagiarised material. The paper containing the plagiarism will also be obviously marked on each page of the PDF. Depending on the extent of the plagiarism, the paper may also be formally retracted.
4. Competing financial interests 
In the interests of transparency and to help readers to form their own judgments of potential bias, JPHDC requires authors to declare to the editors any competing financial interests in relation to the work described. The corresponding author is responsible for submitting a competing financial interests statement on behalf of all authors of the paper. In other cases, usually for articles that have been commissioned by an editor, the journal office will send the author a form to complete and sign before publication of the article. Authors who have made a competing financial interest declaration as part of the online manuscript submission process do not need to complete and send a separate form. 
Authors are required to include a statement at the end of their article to declare whether or not they have any competing financial interests.  
Definition
For the purposes of this statement, competing interests are defined as those of a financial nature that, through their potential influence on behaviour or content or from perception of such potential influences, could undermine the objectivity, integrity or perceived value of a publication. 
They can include any of the following: 
Funding: Research support (including salaries, equipment, supplies, reimbursement for attending symposia, and other expenses) by organisations that may gain or lose financially through this publication. 
Employment: Recent (while engaged in the research project), present or anticipated employment by any organisation that may gain or lose financially through this publication. 
Personal financial interests: Stocks or shares in companies that may gain or lose financially through publication; consultation fees or other forms of remuneration from organisations that may gain or lose financially; patents or patent applications whose value may be affected by publication. 
Application to authors
Unless/until the article is published, authors' declarations will be considered confidential, and will not be disclosed to peer-reviewers.
The published article indicates the authors' response using one of the following standard sentences: 
The authors declare competing financial interests: details accompany the full-text HTML version of the paper at JPHDC website.
The authors declare no competing financial interests. 
For publications with more than one author, the corresponding author (the person responsible for communication with the journal) should provide a declaration on behalf of all authors.
We recognise that some authors may be bound by confidentiality agreements. In such cases the editors will investigate further and may at their discretion invite the authors to state in place of itemized disclosure:"The authors declare that they are bound by confidentiality agreements that prevent them from disclosing their financial interests in this work." 
We do not require authors to state the monetary value of their financial interests. 
Application to referees
JPHDC invite peer-reviewers to exclude themselves in cases where there is a significant conflict of interest, financial or otherwise. However, just as financial interests need not invalidate the conclusions of an article, nor do they automatically disqualify an individual from evaluating it. We ask peer-reviewers to inform the editors of any related interests, including financial interests as defined above that might be perceived as relevant. Editors will consider these statements when weighing reviewers' recommendations.
Application to editors
All JPHDC editorial staff are required to declare any interests — financial or otherwise — that might influence, or be perceived to influence, their editorial practices.
5. Confidentiality 
JPHDC keeps confidential all details about a submitted manuscript and do not comment to any outside organisation about manuscripts while they are under consideration or if they are rejected by the journal. The journal editors may comment publicly on published material, but their comments are restricted to the content itself and their evaluation of it. 
After a manuscript is submitted, correspondence with the journal, referees' reports and other confidential material, whether or not the submission is eventually published, must not be posted on any website or otherwise publicised without prior permission from the editors. The editors themselves are not allowed to discuss manuscripts with third parties or to reveal information about correspondence and other interactions with authors and referees. 
Referees of manuscripts submitted to the journal undertake in advance to maintain confidentiality of manuscripts and any associated supplementary data.
Ethics Policy
Studies involving animals 
For primary research manuscripts reporting experiments on animals, the corresponding author must confirm that all experiments were performed in accordance with relevant institutional, national, or international guidelines and regulations. The manuscript must include a statement identifying the institutional and/or licensing committee approving the experiments, including any relevant details. Sex and other characteristics of animals that may influence results must be described. We recommend following the Animal Research: Reporting In Vivo Experiments (ARRIVE) reporting guidelines when documenting animal studies (PLoS Bio 8(6), e1000412,2010).
Studies involving human subjects 
Research involving human subjects, human material, or human data, must have been performed in accordance with the Declaration of Helsinki and must have been approved by an appropriate ethics committee. A statement confirming that informed consent was obtained from all subjects (or their parent or guardian in the case of children under 16), including the name of the ethics committee and the reference number where appropriate, must appear in all manuscripts reporting such research. If a study has been granted an exemption from requiring ethics approval, this should also be detailed in the manuscript (including the name of the ethics committee that granted the exemption). Further information and documentation to support this should be made available to Editors on request. Manuscripts may be rejected if the Editor considers that the research has not been carried out within an appropriate ethical framework. In rare cases, Editors may contact the ethics committee for further information.
On rare occasions, if the Editor has serious concerns about the ethics of a study, the manuscript may be rejected on ethical grounds, even if approval from an ethics committee has been obtained.
Retrospective ethics approval 
If a study has not been submitted to an ethics committee prior to commencing, retrospective ethics approval usually cannot be obtained and it may not be possible to consider the manuscript for peer review. The final decision on how to proceed in such cases rests with the Editor-in-Chief.
Clinical Trials Registration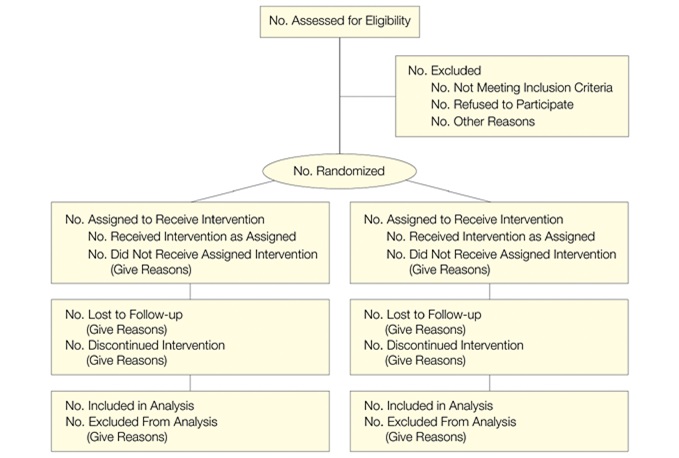 Authors reporting phase II and phase III randomised controlled trials (RCTs) should refer to the CONSORT Statement for recommendations to facilitate the complete and transparent reporting of trial findings. Reports that do not conform to the CONSORT guidelines may need to be revised before formal review. Such manuscripts must include the CONSORT flow diagram showing the progress of patients throughout the trial (see Figure).
Prospective clinical trials must be registered before the start of patient enrollment in www.clinicaltrials.gov or a similar public repository that matches the criteria established by the International Committee of Medical Journal Editors (ICMJE). Trials in which the primary goal is to determine pharmacokinetics are exempt.
The ICMJE use the World Health Organization (WHO) definition of a clinical trial, which is "any research study that prospectively assigns human participants or groups of humans to one or more health-related interventions to evaluate the effects on health outcomes". This definition includes phase I to IV trials. The ICMJE define health-related interventions as "any intervention used to modify a biomedical or health-related outcome" and health-related outcomes as "any biomedical or health-related measures obtained in patients or participants". If you are unsure whether your trial needs registering, see the ICMJE FAQs for further information.
The trial registration number (TRN) and date of registration should be included as the last line of the manuscript abstract.
Registration of Systematic Reviews
JPHDC supports the prospective registration of systematic reviews and encourages authors to register their systematic reviews in a suitable registry (such as PROSPERO). Authors who have registered their systematic review should include the registration number in the last line of the manuscript abstract.
Standards of Reporting
JPHDC supports initiatives aimed at improving the reporting of biomedical research. We recommend authors refer to the EQUATOR network website for further information on the available reporting guidelines for health research and the MIBBI Portal for reporting checklists for biological and biomedical research where applicable. Authors are requested to make use of these when drafting their manuscript, and peer reviewers may also be asked to refer to these checklists when evaluating such studies. Checklists are available for a number of study designs, including randomised controlled trials (CONSORT), systematic reviews (PRISMA), observational studies (STROBE), meta-analyses of observational studies (MOOSE), observational studies in genetic epidemiology (STREGA), diagnostic accuracy studies (STARD), and qualitative studies (RATS). For grading quality of evidence and strength of recommendations, we encourage use of GRADE guidance. For authors of systematic reviews, an additional file, linked from the 'methods' section, should reproduce all details concerning the search strategy. For an example of how a search strategy should be presented, see the Cochrane Reviewers' Handbook. 
Standardised gene nomenclature should be used throughout. Human gene symbols and names can be found in the HUGO Gene Nomenclature Committee (HGNC) database and any enquiries, or requests for new gene symbols, should be directed via email to hgnc@genenames.org. For mutation nomenclature, please use the guidelines suggested by the Human Genome Variation Society. 
Authors must comply with best practice in their field for sharing of data, with particular attention to maintaining patient confidentiality.
Availability of Data and Materials
An inherent principle of publication is that others should be able to replicate and build upon the authors' published claims. Therefore, a condition of publication in JPHDC is that authors are required to make materials, data and associated protocols promptly available to readers without undue qualifications. Any restrictions on the availability of materials or information must be disclosed to the editors at the time of submission. Any restrictions must also be disclosed in the submitted manuscript, including details of how readers can obtain materials and information. If materials are to be distributed by a for-profit company, this must be stated in the paper.  
Supporting data must be made available to editors and peer-reviewers at the time of submission for the purposes of evaluating the manuscript. Peer-reviewers may be asked to comment on the terms of access to materials, methods and/or data sets; the journal reserve the right to refuse publication in cases where authors do not provide adequate assurances that they can comply with the journal's requirements for sharing materials. 
After publication, readers who encounter refusal by the authors to comply with these policies should contact the editor-in-chief of JPHDC. In cases where editors are unable to resolve a complaint, the journal may publish a formal statement of correction, attached online to the publication, stating that readers have been unable to obtain necessary materials to replicate the findings. 
The preferred way to share large data sets is via public repositories. Some of these repositories offer authors the option to host data associated with a manuscript confidentially, and provide anonymous access to peer-reviewers before public release. This option should be used when possible, but it is the authors' responsibility to communicate with the repository to ensure that public release is made promptly on the article publication date. Any supporting data sets for which there is no public repository must be made available as Supplementary Information files that will be freely accessible on JPHDC website upon publication. In cases where it is technically impossible for such files to be provided to the journal, the authors must make the data available to editors and peer-reviewers at submission, and directly upon request to any reader on and after the publication date, the author providing a URL or other unique identifier in the manuscript.   
Clinical Trials
Authors reporting phase II and phase III randomised controlled trials should refer to the CONSORT Statement for recommendations to facilitate the complete and transparent reporting of trial findings. Reports that do not conform to the CONSORT guidelines may need to be revised before formal review. 
Prospective clinical trials must be registered before the start of patient enrollment in www.clinicaltrials.gov or a similar public repository that matches the criteria established by the International Committee of Medical Journal Editors (ICMJE). Trials in which the primary goal is to determine pharmacokinetics are exempt.
Research Misconduct
JPHDC takes seriously all allegations of potential misconduct, and follows COPE guidelines that outline how to deal with cases of suspected misconduct. 
In cases of suspected research or publication misconduct, it may be necessary for Editors to contact and share manuscripts with third parties, for example, author(s)' institution(s) and ethics committee(s). 
All research involving humans (including human data and human material) and animals must have been carried out within an appropriate ethical framework (see our Ethics policy for further information). If there is suspicion that research has not taken place within an appropriate ethical framework, Editors may reject a manuscript and may inform third parties, for example, author(s)' institution(s) and ethics committee(s). 
In cases of proven research misconduct involving published articles, articles may be retracted.
Corrections
Correction and retraction policy
We recognise our responsibility to correct errors that we have previously published. Our policy is to consider refutations (readers' criticisms) of primary research papers, and to publish them (in concise form) if and only if the author provides compelling evidence that a major claim of the original paper was incorrect. Refutations are peer-reviewed, and where possible they are sent to the same referees who reviewed the original paper. A copy is usually also sent to the corresponding author of the original paper for signed comments. Refutations are typically published in the Communications section of JPHDC, sometimes with a brief response from the original authors.
Corrections are published for significant errors in non-peer-reviewed content of the journal at the discretion of the editors. Readers who have identified such an error should send an email to Editors@jphdc.org, clearly stating the publication reference, title, author of the article, and briefly explaining the error.
JPHDC operates the following policy for making corrections to the peer-reviewed content. 
Erratum. Notification of an important error made by the journal that affects the publication record or the scientific integrity of the paper, or the reputation of the authors, or of the journal. 
Corrigendum. Notification of an important error made by the author(s) that affects the publication record or the scientific integrity of the paper, or the reputation of the authors or the journal. All authors must sign corrigenda submitted for publication. In cases where coauthors disagree, the editors will take advice from independent peer-reviewers and impose the appropriate amendment. 
Retraction. Notification of invalid results. All coauthors must sign a retraction specifying the error and stating briefly how the conclusions are affected, and submit it for publication. In cases where coauthors disagree, the editors will seek advice from independent peer-reviewers and impose the type of amendment that seems most appropriate. 
Addendum. Notification of a peer-reviewed addition of information to a paper, usually in response to readers' request for clarification. 
Authors sometimes request a correction to their published contribution that does not affect the contribution in a significant way or impair the reader's understanding of the contribution (a spelling mistake or grammatical error, for example). The HTML and PDF versions of the article are both part of the published record and hence their original published version is preserved. JPHDC does, however, correct the HTML version of a contribution if the wording does not make sense when compared with the PDF version. In these cases, the fact that a correction has been made is stated in a footnote so that readers are aware that the originally published text has been amended.
License to Publish
All original research articles published in JPHDC are made freely and permanently accessible online immediately upon publication. Authors publishing with JPHDC retain the copyright to their work, licensing it under the Creative Commons Attribution 3.0 Unported License which allows users to read, copy, distribute and make derivative works for non-commercial purposes from the material, as long as the original work is correctly cited.
No Embargo Policy
JPHDC does not impose media embargos on content. Authors, as the owners of their original work, are free to disseminate advance information about forthcoming articles that they have contributed to JPHDC.
All JPHDC contents will be freely available to everyone from the moment of publication.
Advertising Policy
JPHDC is a non-profit medical journal whose mission is to provide a venue for scientific publishing that is independent of commercial interests which can influence editorial objectivity.
We reserve the right to refuse advertising from any business or organisation whose activities we believe are inconsistent with the mission of JPHDC.
Please contact us at
enquiries@jphdc.org
if you are interested in advertising with JPHDC.
Sponsorship Policy
Companies, individuals and other organisations are invited to support the development of JPHDC by becoming a journal sponsor.
Sponsorships provide unrestricted funds that will help JPHDC advance its service to authors and readers. Sponsors will be highlighted on a Sponsors page.
To ensure their commitment to the integrity of scientific debate, and to the independence of our editors, sponsors of JPHDC will be asked to endorse the following sponsorship statement:
"We support the principles of JPHDC and recognise the potential for competing interests while providing financial support to the Journal. We hereby state that we will not attempt to influence any editorial decisions made by the editors of JPHDC, in return for our support".
Please contact us at enquiries@jphdc.org if you are interested in becoming JPHDC sponsor.